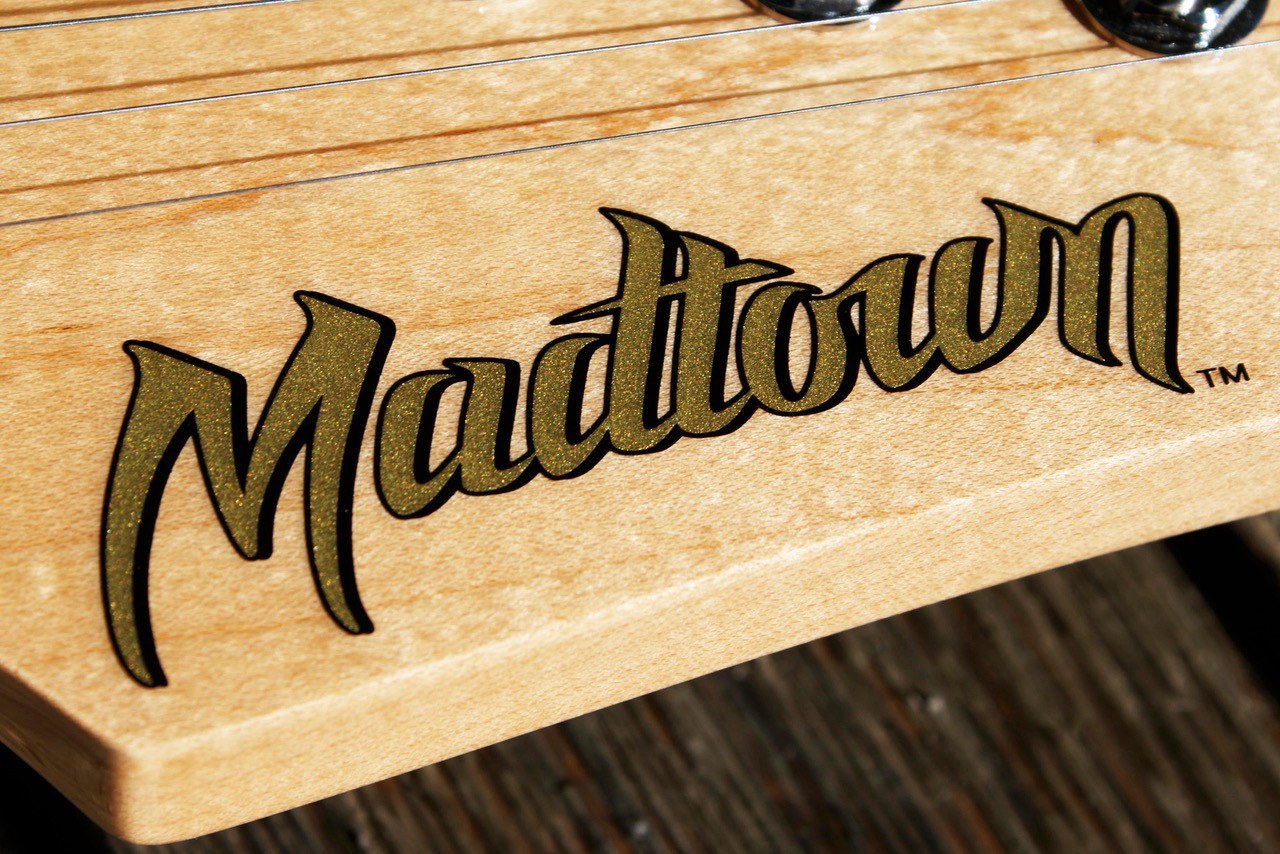 Custom guitar decals that are made to last…
High-quality dry transfers are ideal as custom guitar decals for logos and other visual elements. Their appearance on fine musical instruments is impressive – and they bring significant advantages over methods like waterslide decals.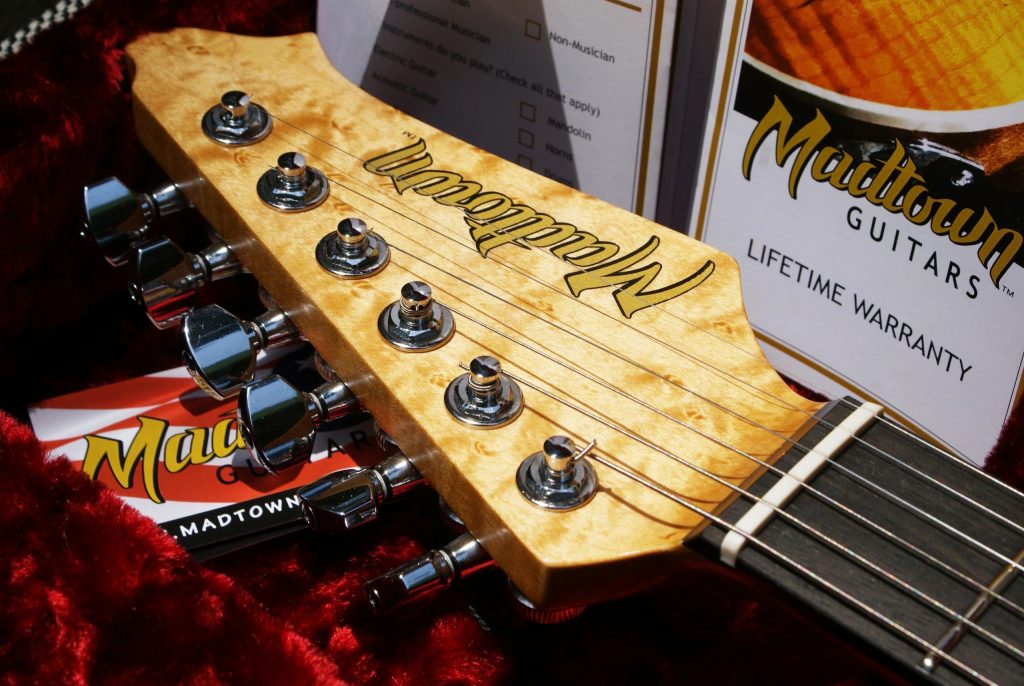 Image Transfers is proud to partner with Madtown® Guitars for the logos used on its exclusive models, The Gravelcaster and The Railrider. Because they go on dry, transfer decals for guitars (and other musical instruments) can be applied easily to fine wood surfaces with no damage. Madtown's logo is usually represented in 2/colors. Image Transfers can produce the outline of the logo art in Black ink and offer options to represent the Gold or Silver interior. We can even provide a sparkling metallic effect that makes the appearance more unique and one-of-a-kind.
Our dry transfer guitar decals also offer Madtown's founder Anthony Bragg one essential advantage he finds especially essential: permanence. When you apply rub-on transfers to a smooth surface like wood, they are instantly semi-permanent. To make them permanent, apply a topcoat of lacquer – no further effort required. Because Madtown's guitars are handcrafted and highly sought-after, maintaining their visible branding throughout the life of the instrument is of significant importance. For nearly any high-quality, one-of-a-kind, or small-batch product, custom dry transfers are the optimal solution for logos, lettering, or any visible detailing. They are available in any color as well as custom foil transfers and metallic effects and maintain absolute clarity at medium and smaller sizes.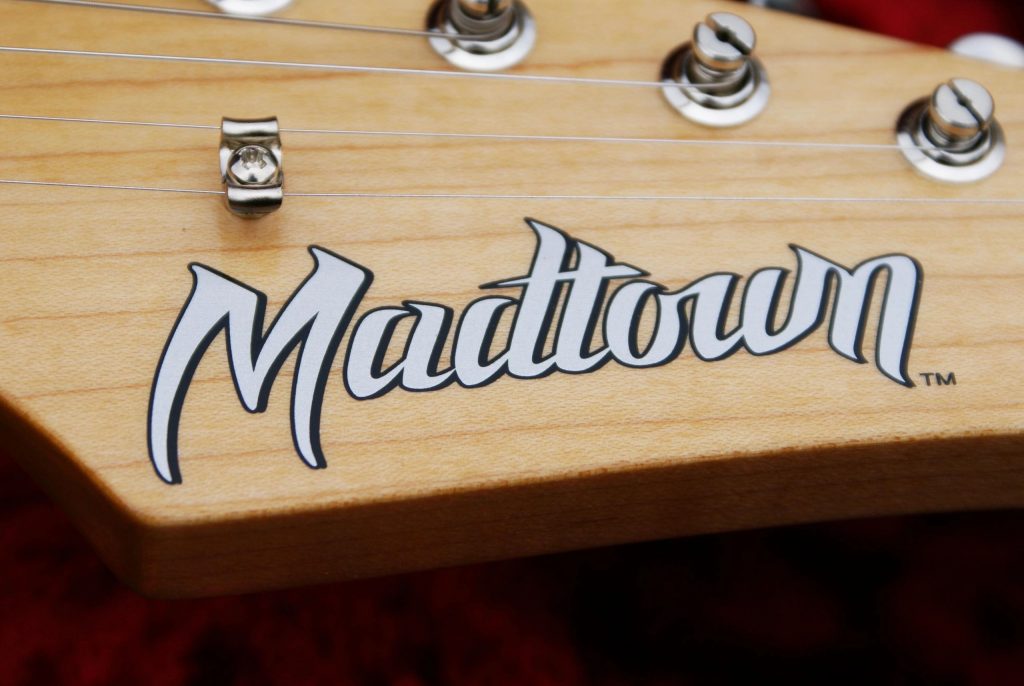 At Image Transfers, we take a particular interest in our guitar-maker clients. We partner with them to assure that logos and other custom guitar decals look as elegant as the finished instruments themselves. In general, our work is well suited to custom and one-of-a-kind items, or small-batch runs of premium products. Our rub-down transfers can be applied quickly and easily with the burnishing tool we provide. They produce a finished look on par with manufactured products and work on any dry, flat surface from wood to glass, metal, and plastic. We can provide all Pantone colors, and for projects featuring text or lettering, we're a popular alternative to the former Letraset letters.
---
Madtown Guitars is a Madison, Georgia-based maker of handcrafted musical instruments.
Owner/Luthier Anthony Bragg is passionate about every detail on his guitars, including their logos.
"For me, making musical instruments with logos is more than just an identifier in the marketplace," he says. "They are badges of pride and honor reserved only for the finest instruments we produce."
Anthony has been impressed with the quality of the dry transfer decals Image Transfers provides. We're proud to say he sees the superiority of our product compared to other methods.
"For several years, I used waterslide decals – but I never really cared for the effect the moisture had over time," he said. "The dry transfer decals are better quality, easier to use, more cost-effective (per logo), and once sealed become permanent. I use them for logos and to serialize the instruments and mark location of origin as well."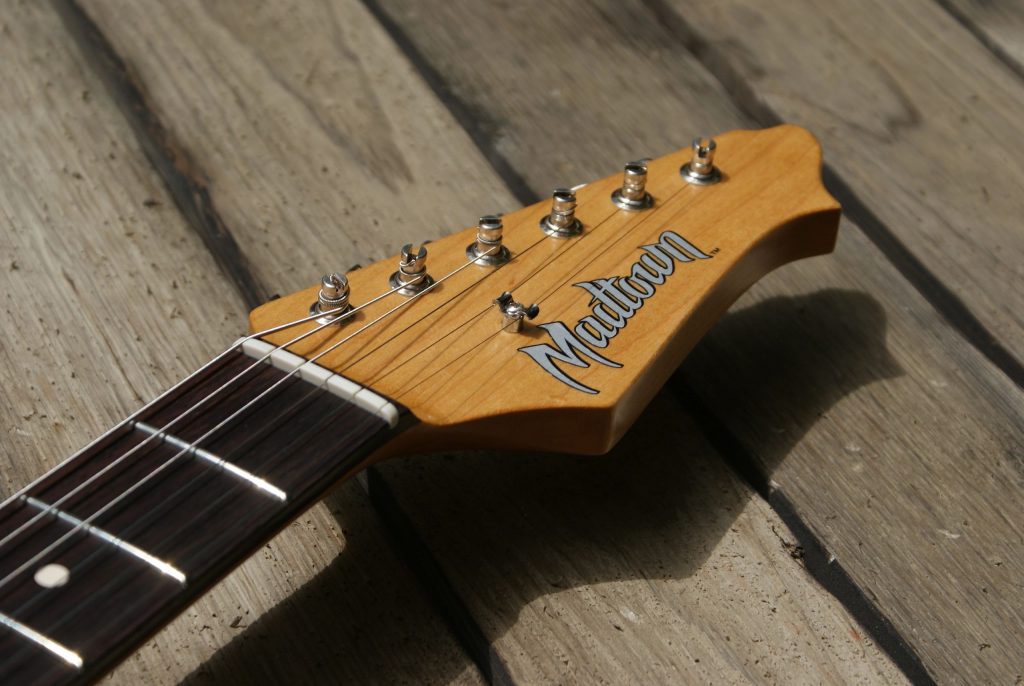 Makers of custom guitars often want to adorn their handmade instruments with upscale details such as high-quality logos. When you use custom dry transfers, we can assure you of a high-end appearance. Based on many years of experience, we feel confident in saying that our process has a significant advantage. We are superior to waterslide decals, vinyl lettering, and traditional ink printing for many products and projects. At Image Transfers, we are 100% focused on rub-on decals, and we provide custom foil transfers and metallic options in addition to all Pantone colors. We have a talented team of in-house artists who work directly from your digital files with care. What you receive from us will be ready to apply with no complications.
For custom products with exacting visual standards, custom dry transfers provide both high-quality results and convenience. Also, when you produce quantities of any logo or lettering, you quickly can gang them up on a single sheet as Anthony does to bring down costs. Rub-on transfers are a perfect solution for custom guitar decals and so many other applications. We've produced the same outstanding results for product prototypes, museum walls, electronic circuit boards, and even aircraft instrument panels.
No matter what the application, Image Transfers will give you a look that is elegant, lasting, and convenient to apply.
---