Custom Foil Transfers for Guitars
Recently a number of people who build custom guitars have been calling and ordering dry transfers from us. This is, in part, because Stewart-MacDonald has given Image Transfers a great endorsement by featuring dry transfers in one of their videos. It boosts our confidence to know that a company such as Stewart-MacDonald, so well known in the custom guitar arena, would choose to recommend our product to their clients, sending them to order and use our dry transfers on their hand made guitars.
These are not your standard off the shelf guitar decals. These are custom foil transfers.
Our foil transfers are different that other guitar decals. Custom transfer foils can enhance the finished look of a guitar by adding your personal artwork.
In the video posted below, Ron Gomes, in the Stewart MacDonald workshop, uses dry transfers to finish his custom guitar after he installs six in line tuners.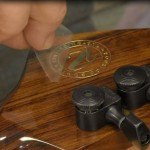 Image Transfers offers foil transfers that are custom matched to the Crown Roll Leaf palette of color options on our website.
Dry transfer decals are an easy and professional looking way to apply your logo art onto your guitar.
It is the ultimate praise to know that Stewart MacDonald would recommend us to someone who pours his or her heart and soul into making a hand made guitar. We really appreciate their endorsement of our product.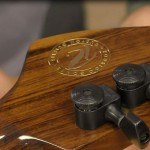 For over 40 years, Stewart-MacDonald in Athens, Ohio has supplied the world's instrument makers and repair shops with everything they need to build and repair stringed instruments. Stewart-MacDonald (Stewmac for short) sells quality replacement parts, upgrades and tools that are unique to stringed instruments. Stewart-MacDonald has the hard-to-find tools, parts, and supplies needed by guitar builders and repair shops.
With their staff of experienced luthiers, Stewmac also designs and manufactures tools specifically for the needs of professional instrument makers and repair shops. Their manufacturing shop in Ohio also creates instrument kits of particularly high quality.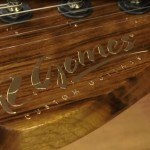 With woods selected and machined for accurate fit, these kits give you the materials needed to create heirloom-quality instruments. From fixing a scratch on your guitar, replacing a pickup or switch to rebuilding a set-neck acoustic, Stewmac has the parts, material, paint, glue and finish to get the job done.
Original post: http://www.stewmac.com/How-To/Trade_Secrets/how_to_install_six-in-line_tuners.html