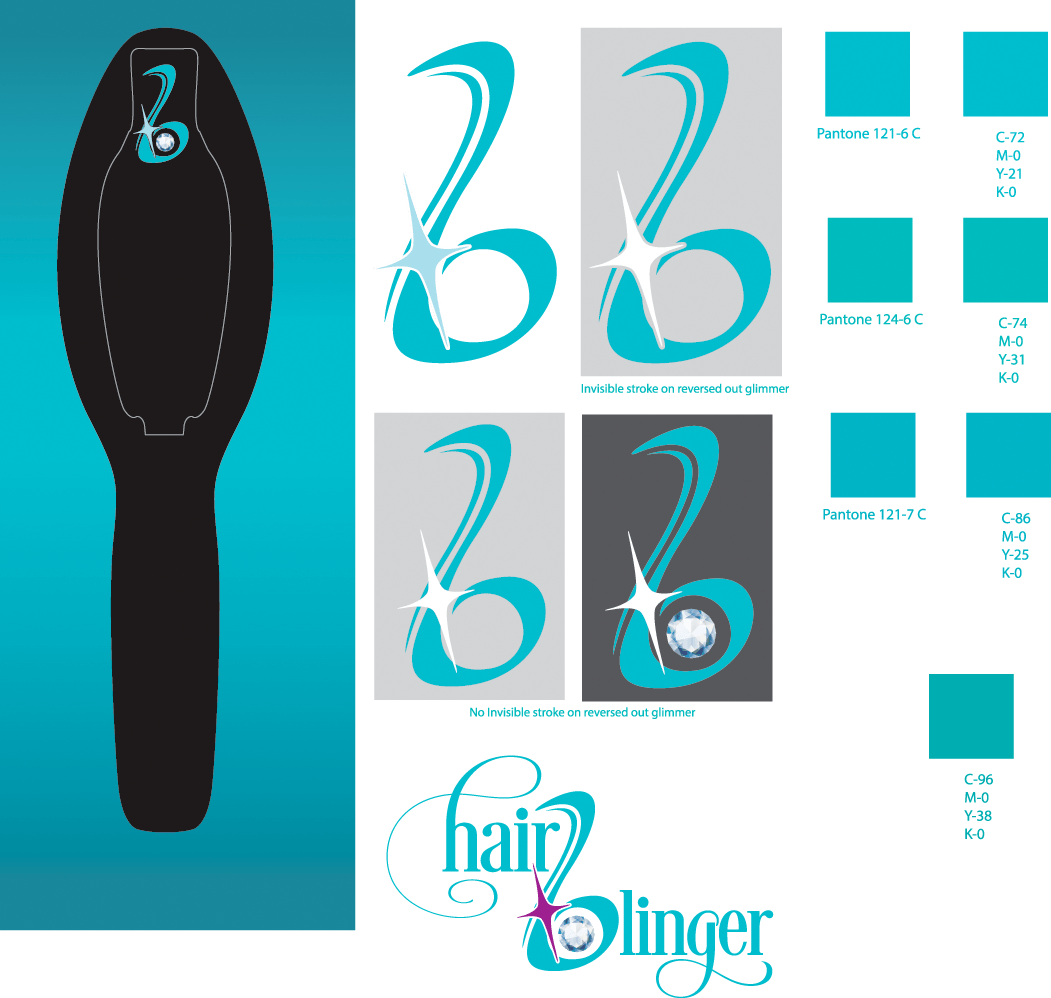 Attention All Product Prototype Designers –
Dry Transfers Serve a Great Purpose in a Pinch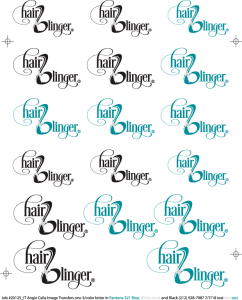 After having worked several months to develop a prototype of their new Hair Blinger™ hair tool, GEMC2, LLC, inventors of Hair Blinger™, were invited to Dallas, Texas by CEO, Mike Robertson, of HowTube® to create some marketing videos. It was too late to get their device pad printed with their new logo, so it was recommended to them to use a custom dry transfer. And according to Angie Cella, President of GEMC2, "It worked great! Our logo looked like a million bucks! We created over 12 different videos highlighting our newly designed prototype with our logo shining brilliantly on our product. It was perfect!"
Image Transfers helped Angie be prepared, with a realistic looking prototype, for those videos. Angie provided vector artwork of her Hair Blinger™ artwork to us for custom dry transfers. Image Transfers provided them with 3-color transfers in Pantone 325C, Pantone 320C, and White. Since our normal turnaround is 24 to 48 hours we are able to get finished transfers shipped out to meet tight deadlines. Angie's team was able to apply the transfers, using a supplied burnisher, onto her prototypes to create a realistic looking finished product. Angie was ready, even with a tight deadline, to have her Hair Blinger™ hair tool available for the marketing videos without any pad printing, and as Angie said, "looking like a million bucks."
Our transfers fit a need to those clients trying to market their products before a production run. Custom rub down transfers can be applied to a number of different surfaces including plastic, aluminum, glass, wood, walls and of course paper products. With dry transfers, our clients have the ability to produce finished looking prototypes that can be used for their beauty shots, marketing material, website photos, and videos. This is extremely beneficial so that when their actual product hits the shelves, consumers are already geared up for the product's release.
Image Transfers has production artists on staff that can help you with your vector artwork or advise you of the best file formats for us to produce beautiful rub-down decals. If you already have artwork, our user-friendly website allows you to log in, drag & drop art, choose the color, choose FedEx service and check out getting an instant receipt. If the artwork is in before 12 noon EST final transfers usually go into FedEx that evening.
Angie had a dream about this product in late 2014 and is now very close to seeing it become a reality. Her product, Hair Blinger™, applies crystals, rhinestones, pearls and other gems to the hair.
The hair tool is simple to use and safe for hair – it doesn't require electricity or heat to apply the gem. Simply place hair in the notch on the device, squeeze the handle and a beautiful gem or crystal (with their safe adhesive for hair already on gem) is applied to your hair. Imagine adding a touch of sparkle to your hair at prom or New Year's Eve, your wedding, a black-tie affair or just a great night out with your best friends! It's fun and simple to use and is intended for women of all ages. Angie, as a single Mom of 4, shared with us that the journey hasn't always been easy, but she has found her strength to keep going from her children and God. She hopes to be a good role model for her children and others and her ultimate goal is to make a difference in the world with sharing most of her profits with those in need.
We hope you will check out Angie's product at www.hairblinger.com officially launched at the end of August and spread the word of her Kickstarter campaign when she launches it. To be one of the first people to get your own Hair Blinger™, simply send her an email at angie@hairblinger.com.
We wish Angie much success and thank her for using our services.