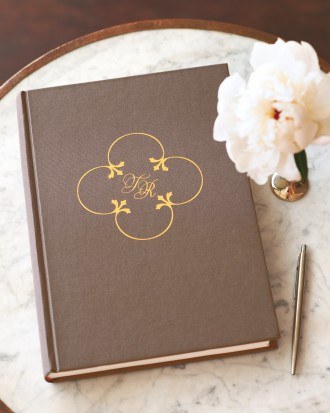 Our custom transfers were used recently in Martha Stewart Weddings, 2015 Winter Edition's magazine photoshoot. We provided the foil transfers for their Wedding Guest Book in Crown Roll Leaf Gold Foil (shade #414) of their artwork, which they applied to the cover of the guest book for "Tiler and Robbie's wedding".
While we had nothing to do with inside of the book, we just wanted to show what the inside and outside of the guest book looked like. This is another good example of where our rub-down foil transfers can be used for the finishing touches on book covers, movie and photo props and prototypes of any kind.
Other dry transfers were made for similar book cover project a couple of years ago. We made these gold foil transfers to be used on a book cover for Lisa Kay, Creative Director at LAST EXIT, who used our custom rub down transfers to create this beautiful comp.