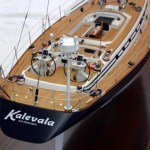 Custom rub-down transfers have been used for scale model replicas for many years. Originally known as Letraset® they are also known as Chromatecs, custom rub-on transfers, or dry transfers. A color rub-on transfer is an image produced with a special ink that is applied to the release film substrate that can be rubbed onto any smooth model surface.
Great for scale models like replica boats, airplanes, and HO scale model trains.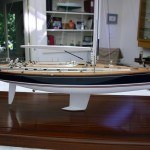 Classic Yacht Models had a customer who wanted to build a model boat as a surprise gift for her husband. Image Transfers created custom dry transfers for their classic model yacht. Here are some pictures of the rubdowns being applied to their scale model boat. Here's their original story.
The original boat is a custom-built Swan 60 with an extended transom (now measuring 65' in length). The owner closely involved in the yacht's building process in 2002 has since sailed her around the world.
This scale model was built as a replica at 7/16″ scale, measuring 28″ long by 43″ tall with a beam of 7-5/8″.
If you are a yachting enthusiast, you know that choosing a model builder that can meet your expectations is a serious consideration. Classic Yacht Models works closely with clients to identify their needs. For more info, visit their website at: http://www.yachtmodels.com/
Image Transfers produced custom color dry transfers for Travis Best, of 3D Creative Services for their scale model WWII P51D fighter plane.
After building their scale model of a WWII P51D fighter plane, Dan French wrote to share his good news,
"Luann, Hello, Dan from 3D here. We spoke a LONG time ago about the below-mentioned WWII P51D Mustang Fighter plane called Cripes A' Mighty 3rd… I know you have been working with Travis on this project and I wanted to let you know that I/we feel you did an amazing job! Thank You! This is a scale model of a WWII P-51D Mustang built for the son of the pilot/owner of this plane; the late Col. Gene Stocker. We paid impeccable attention to detail when replicating his father's plane. We so respected this project from a patriotic standpoint as well as a sons' standpoint. So we went the extra mile here. My customer had no idea that we threw in the base with a colleague of old precious photos of his father in and around the plane as well as flying it! We also decided to give him a glass dust cover and then suspend the plane from the case as if it were flying. We gave it retractable landing gear. We paid super close attention to the paint scheme which made it unique from his father's plane. When I say we paid close attention to detail on the paint scheme, I meant it! You can't even read the text with the naked eye! But when magnified its as clear and sharp as can be!! There were no stock fonts that we could just purchase and use to replicate the Hand-Painted work done on the plane… and nothing "close enough" would meet our high standards! So we PAINSTAKINGLY hand-crafted all the artwork in scale working from old photos – Thanks!"
We appreciated the opportunity to help make dry rubdowns of their artwork. For more on this project, visit their
FaceBook page
.