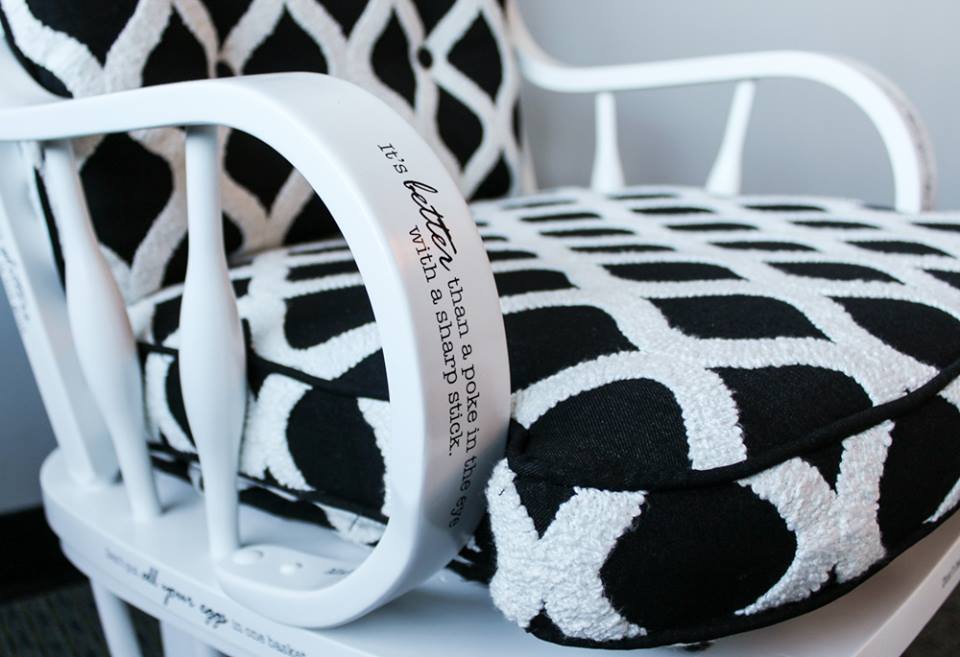 Most of our clients are Industrial Designers since our dry transfers are ideal for creating realistic-looking prototypes and mock-ups. But recently several customers have been ordering rubdown transfers for their custom furniture design projects and photoshoots. Dry transfers on wood can easily be made permanent by adding an extra coat of clear lacquer, applied after the transfer has been rubbed down.
Adding a saying or monogram to your favorite chair or table is simple, and our custom transfers can save you a lot of time and effort.
We just finished creating custom dry transfer decals for Dawn at http://IridianGroup.com. Please take a moment and read about her company and project: "We are a graphic design company, and the chair was a project for a client of ours— an interior design company. They had a customer bring in an old rocking chair that was refinished and reupholstered. The chair had belonged to the customer's grandmother who had passed away, and she requested to have around 33 sayings that grandma was known for somehow incorporated into the chair. After a failed attempt to have an artist handwrite all the sayings onto the chair, our client approached us to come up with a solution creative for them."
"We measured the chair and designed all 33 sayings to fit, then had Image Transfers produce them. It worked perfectly! They plan to seal the chair to make the custom transfers permanent, and their customer was thrilled."
Thanks again for a great product! We hope to be able to work with you again in the future.